Set Theory and the Foundations of Mathematics




This site aims to rebuild mathematics with (almost) no prerequisites, and offer new optimized paths to the fundamental theories of mathematics and physics.

The "main path" here aims to combine the following advantages:
To be as rigorous as possible (everything is explained, all what is provable is proven from the beginning)
To give powerful and general concepts and tools, avoiding any unnecessary lengths. Rigor will not dilute or obscure the meaning. Proofs are usually very short. Pages are very dense, with many ideas per page to explain everything. The right formalism will express the highest concentration of meaning.
The formalism directly fits the practical use and notations without artificial encoding and abbreviation systems.

Original (cleaned up and restructured) approaches are given to most subjects
Emphasis is placed on intuition, deep and "philosophical" explanations, the main foundational concepts and paradoxes, the mathematical world.
This work does not aim (nor exclude) to bring new ideas, results or theories, but focuses on developing new ways to the existing knowledge: putting things in the right order, to make high concepts look as clear, simple and fast to learn as possible.
It may be situated in between undergraduate and graduate levels: by its way of rebuilding everything from the start, it aims to fill the role of (a subset in progress of) an undergraduate curriculum (1st university year), but the difficulty level with the care for powerful methods and deep and complete explanations, is comparable to graduate level (3rd year). Also, it takes some of its inspiration and concepts from existing graduate-level mathematics (in a simplified form).
It is thus mainly targeted at

Clever undergraduate students with genuine interests in mathematics or physics (rather than focused on preparing for exams);
Teachers of mathematics or physics looking for deeper understandings of their subject;
Any people trying to learn science outside the academic system.
(Such innovative works for the undergraduate level seem to be generally lacking in the world, while more works can be found on the foundations of mathematics at other levels).


(The English vocabulary used here may need little corrections as I'm not native English speaker and I need to name some concepts that have not always a standard name in the mathematical literature; I know that my use of "functor" differs from (is more general than) its standard meaning in category theory, and thus breaks the standard convention, but I do not know any better word for what I need).


A first version was written in French, then partially corrected and translated to make the start of this site, which then continued directly in English on other subjects.
I look for translators to provide versions of this work in other languages.


Now over 50 pages ready from the start on mathematics (entirely self-contained), plus more sections of maths and physics in bulk or draft; still incomplete (some French pages should be corrected before translation, and others are in plans to be directly written here).

The set theory formalism presented here differs from the traditional ZF system, but aims to better fit the common use of mathematics and be cleaner on foundation and meaning ; after developing this work I noticed that this kind of approach seems to have been already explored and presented by other author(s), under the name "functional set theory" but I did not study their works.


This work is generally intended to be slowly read, respecting the order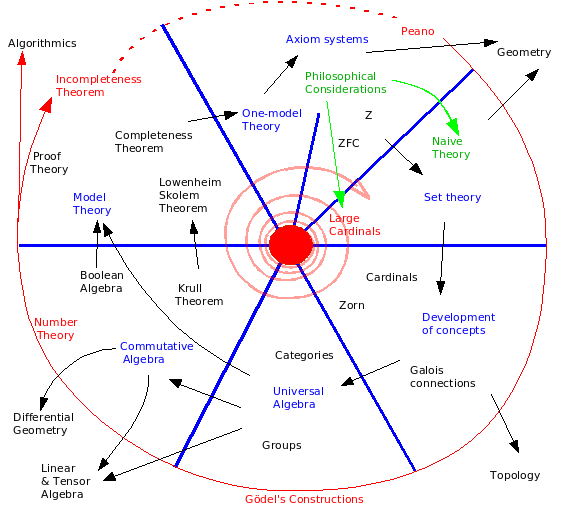 1. Beginnings of set theory (html) - pdf version (10 pages - updated on 20/5).
1.1. Introduction to the foundation of mathematics
1.2. Variables, sets, functions and operations
1.3. Structure of theories: objects, meta-objects, types and structures
1.4. Terms and formulas; connectives
1.5. Classes in set theory
1.6. Bound variables in set theory
1.7. Quantifiers
1.8. First set theory axioms
1.9. Set generation principle
The flow of the metamathematical time (html)
(Philosophical complements, not needed for text 2 but only to intuitively justify the above generation principle, and for the comments on the powerset in text 3)

Platonism vs Formalism
Theory vs objects
The finite time between formulas
The infinite time between theories
The metaphor of the usual time
Zeno's Paradox
The relative sense of open quantifiers
Nature of classes
Justifying the set generation principle
Concrete examples
Can a set be reflexive (= an element of itself) ?

Note on alternative logics
2. More notions of set theory (10 pdf pages)

2.1. Tuples, families
2.2. Operators on sets
2.3. Uniqueness quantifier
2.4. Properties of functions
2.5. The powerset axiom
2.6. Properties of binary relations on a set
2.7. Canonical bijections
2.8. Equivalence relations and partitions
2.9. Axiom of choice
2.10. Notions on ordered sets



The first page (section 5.1) of the text on Galois connections, is advisable preliminary for the below (parts 3 and 4):
3. Basics of Model Theory

What is a mathematical theory


The contents of a theory
Provability and the Completeness Theorem
How mathematical theories develop


Proofs
Definitions
Constructions


Notion of Algebra


Morphisms, subalgebras, images...
Transformation monoids
Permutation groups
Commutants


Relational systems and their morphisms


Embeddings
Algebraic formulas and theories


The Galois connection between (invariant) structures and permutations (automorphisms)


More similarities between development levels


Second-order theories

Second-order and higher-order theories
Translating second-order theories into first-order ones
Second-order structures


Formalizations of Arithmetic


The expression in set theory
Second-order arithmetic
First-order arithmetic


Non-standard models of Arithmetic


Non-standard models of elementary arithmetic
Non-standard models of Presburger Arithmetic
Non-standard models of full first-order arithmetic
On the double meaning of invariance

The Incompleteness Theorem


The Truth Undefinability Theorem
The Incompleteness Theorem

More philosophical notes : About the powerset axiom, including

The need of the powerset axiom
Its fundamentally incomplete meaning (Skolem's paradox)
About the axiom of choice
(To be completed: Strength hierarchy of set theories).

4. Algebra and geometry
(List of texts on algebra)
Introduction to the foundations of geometry


What is geometry
Structures and permutations in the plane
Affine geometry
Beyond affine geometry
Euclidean geometry
The completeness of first-order geometry


Products of relational systems


Truth of formulas in products
Morphisms into products
Products of algebras



Polymorphisms and invariants


The Galois connection Inv-Pol between sets of operations and relations
The Galois connection Pol-Pol between sets of operations



Duality theories (to be completed)


Morphisms of duality systems
Duality theories with structures


Algebraic duality theories

[This section 4 has only been well worked on to this point; the below is a draft, to be reworked later]

Affine geometry
Introduction to inversive geometry
Introduction to topology
Monoids, groups and actions


From transformation monoids to abstract monoids
Monoids, theories and morphisms
Groups



Vector spaces in duality


Dimensional analysis
Axiomatic expressions of Euclidean and Non-Euclidean geometries


Special Relativity

Introduction to topology

The following text makes rigorously no use of texts 3 and 4, but only uses text 1 (without complements) and 2. Its position has been moved from 3 to 5 for pedagogical reasons (higher difficulty level while the above texts 3 and 4 are more directly interesting).

5. Galois connections (incomplete for now : 6 pdf pages up to 5.6 ; should have about 11 pages when done)


5.1. Galois connections
5.2. Monotone Galois connections (adjunctions)
5.3. Upper and lower bounds
5.4. Complete lattices
5.5. Fixed point theorem
5.6. Transport of closure
5.7. Preorder generated by a relation
5.8. Finite sets
5.9. Generated equivalence relations, and more
5.10. Well-founded relations



Complements:

Cardinals

Well-orderings and ordinals (with an alternative to Zorn's Lemma but still in draft).





Philosophical proof of consistency of the Zermelo-Fraenkel axiomatic system (Requires to have read the above metamathematical complements)

6. Universal algebra
(to be completed)


---
I wrote large parts of the Wikipedia article on Foundations of mathematics (September 2012 - because until then, other authors focused on the more professional and technical article Mathematical logic instead; the Foundations of mathematics article is more introductory, historical and philosophical) and improved the one on the completeness theorem.

Pythagorean triples (triples of integers (a,b,c) forming the sides of a right triangle, such as (3,4,5))
---
Research teams and centers : Europe - North America - Other
Publications
-
Blogs
-
Organizations
-
Mailing lists
-
Software
-
Other
Any 404-error here ?
There are some failed requests here, especially to .../world/ and other urls ending with /. Where do these final / come from (can you explain if you had this problem) ? The correct url is .../world (or if you wish, /world.htm)

---
Foundations of theoretical physics
List of physics theories that will progressively link to other pages presenting each theory. The main presentations of physics theories already available here are

An exploration of physics by dimensional analysis : telling a lot of fundamental physics and the amplitudes of diverse effects mainly by multiplying quantities. Some sections have been moved to separate pages:

The speed of light and astronomical distances
The energy of nuclear reactions ; The radius of nuclei
Electromagnetism
The gravitational constant
Effects of General Relativity
The parameters of the atomic structure
The compressibility of condensed matter
The speed of the sound in condensed matter
Temperature

(to be continued)

Solved physics problems (for now just one thing about gravitation)


---
Author of this site

Sylvain Poirier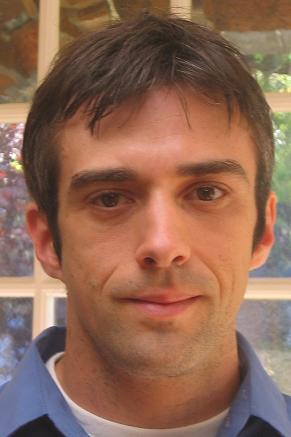 from Le Havre, France
PhD in Mathematics
(but I did not like the academic system; I learnt more mathematics and physics on my own since teenage, including General Relativity at 16).

I have the following other sites :
(Other sites on the web with the same are from homonyms)

I usually like to meet skilled students truly interested to discover math and physics outside the usual curriculum, to share my ideas even for free (especially to provide fast initiation to non-euclidean geometries, special and general relativity, tensors and/or quantum physics). So if you would be interested or you know places where such students can be found, preferably in Europe which is where I usually stay, you can please write me, so if a group can be made I can consider to come.

But... I'm upset. Here is why.


Contact : trustforum at gmail.com